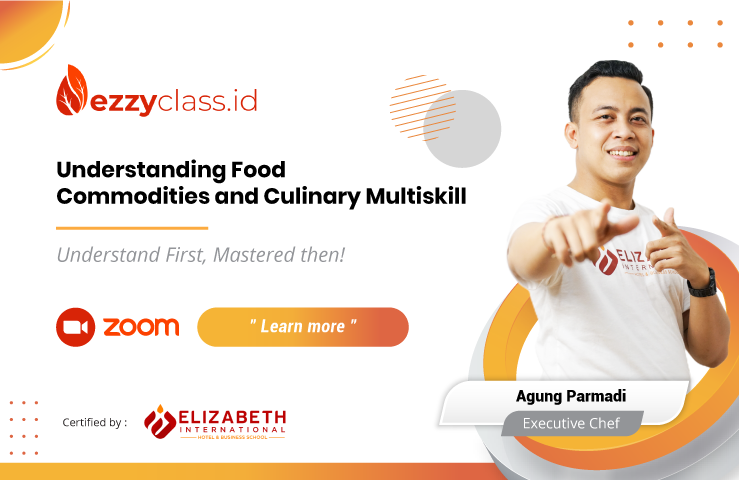 Understanding Food Commodities and Culinary Multiskill
Overview
Isi Materi
Review
Facilitator :

Agung Parmadi - Executive Chef of Ezzy Group
Understand First, Mastered then!
Highlight :
Memahami lebih dalam tentang Komoditi Pangan, beserta Multiskill apa yang perlu diketahui oleh seorang insan culinary muda
Detail :
Apakah seorang Chef wajib Memahami tentang komoditi pangan?? Jawabannya Ya! Sangat Wajib. Ketika chef tersebut memasak, Wajib hukumnya Chef harus memahami dulu tentang kualitas dan kuantitas bahan yang digunakan.
Seperti Jenis Sayuran, Kualitas Daging, Unggas bahkan Kualitas ikan yang akan disajikan kepada tamu wajib di check terlebih dahulu kesegarannya. Selain memberikan wawasan tentang Komoditi pangan atau Food Commodities, #ezzyclass hari ini juga akan memberikan tambahan ilmu baru yaitu Culinary Multiskill, yang mana multiskill yang dimaksud disini adalah, seorang Chef harus mampu menguasai lebih dari 1 Specialties kemampuan memasak
Hayo.. Penasaran? Dalam #ezzyclass ini akan diberikan wawasan seperti;
Food Commodities Classification

Vegetable, Poultry, Fish and Shellfish, Meat, and Game Knowledge

Quality of Product Knowledge

Improving your Culinary Multiskill
Jangan di Skip, karena kelas ini sangat Penting untuk kalian para Chef Muda yang sedang merintis karir, #jangangabutayoikut, ezzyclass hari ini menunggu kalian !
Kelas ini sangat cocok untuk :
Jangan menunggu lagi. Segera ambil kesempatan baik ini sekarang juga!
Kelas ini belum bisa di beli.
Silahkan pilih Upcoming Course dibawah.