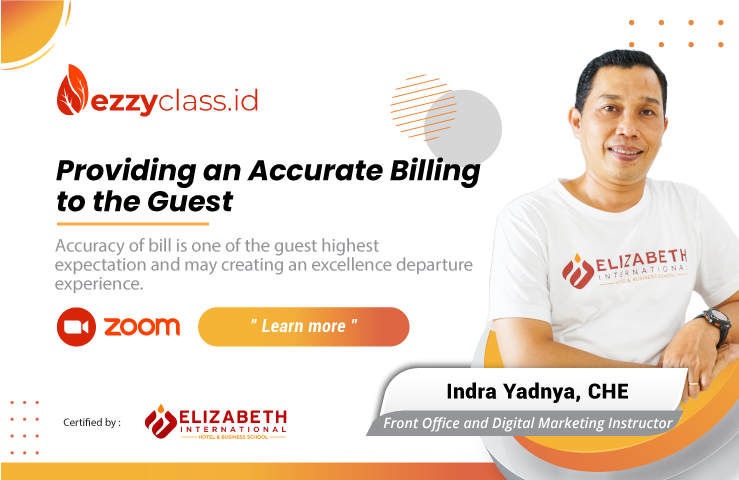 Providing an Accurate Billing to the Guest
Overview
Isi Materi
Review
Facilitator :

Indra Yadnya,CHE - Front Office and Digital Marketing Instructor - Elizabeth International.
Accuracy of bill is one of the guest highest expectation and may creating an excellence departure experience
Highlight :
Dengan menyediakan layanan transaksi folio yang akurat kita telah mampu melengkapi kenyamanan dan kebahagiaan tamu semasa tinggal dan keberangkatan.
Detail :
Para tamu hotel memiliki harapan yang sangat tinggi atau paling tidak sepadan dengan apa yang mereka bayarkan, dan sebaliknya mereka berharap hanya membayar atas segala produk dan fasilitas yang mereka konsumsi dan terima.
Para tamu tentu tidak mau menerima pencatatan yang tidak akurat atas semua transaksi yang mereka lakukan selama mereka tinggal di hotel. Untuk itu sebagai seorang Front Desk Agent, Front Office cashier ataupun Guest Relation Officer harus memiliki kecakapan yang tinggi dan sangat detail untuk bisa menangani segala transaksi keuangan tamu.
Dengan mengikuti #Ezzyclass ini, anda akan mempelajari fitur - fitur dalam Front Office Cashiering system dan berbagai jenis transaksi, seperti:
opening Guest Folio
handling deposit for incidental charges (termasuk card verify dan offline transaction)
posting charge
paid out
correction/adjustment
rebate
discount
split charges
bill transfer
prepayment
folio settlement (semua metode pembayaran)
check-out system
Dengan hanya meluangkan waktu 90 menit, anda mampu memahami dan menangani bill tamu secara akurat dan mampu menciptakan kepuasan tamu yang prima saat keberangkatan mereka.
Kelas ini sangat cocok untuk :
Jangan menunggu lagi. Segera ambil kesempatan baik ini sekarang juga!
Kelas ini belum bisa di beli.
Silahkan pilih Upcoming Course dibawah.