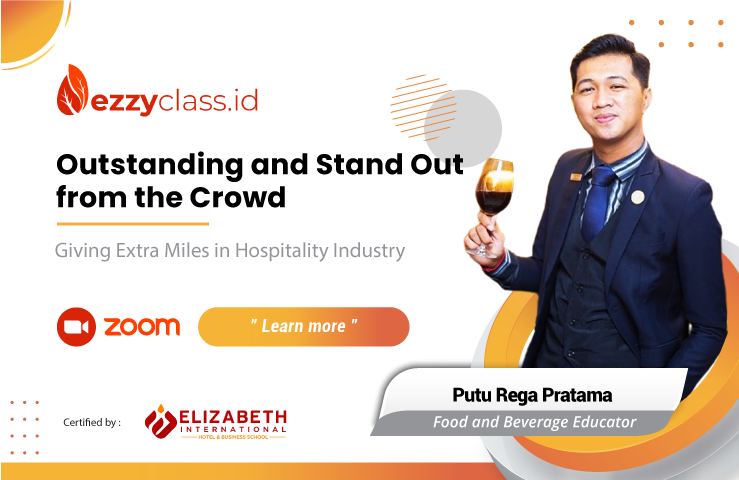 Outstanding and Stand Out from the crowd
Overview
Isi Materi
Review
Facilitator :

Putu Rega Pratama - Food and Beverage Educator
Giving Extra Miles in Hospitality Industry
Highlight :
Menjadi hotelier yang ordinary tidak akan mampu mendorong karir kita dengan cepat, jadilah seorang hotelier yang mampu Stand Out From the Crowd !
Detail :
Menjadi seorang hotelier yang biasa - biasa saja tidak akan mampu mendongkrak karir dan menjadikan diri kita lebih dari partner-partner kita yang lain. Untuk menjadi seorang hotelier yang mampu impact di hospitality industry memang butuh perjuangan, kerja keras dan tentu saja hal yang lebih dari apa yang telah dilakukan oleh orang lain.
Salah satunya adalah kemampuan untuk melakukan sesuatu lebih dari orang lain berikan dan harapkan. Tentu saja dalam konteks yang positif !
Mau tau bagaimana caranya ? Ikuti kelas ini dan jadilah hotelier yang Stand Out from The Crowd.
Kelas ini sangat cocok untuk :
Jangan menunggu lagi. Segera ambil kesempatan baik ini sekarang juga!
Kelas ini belum bisa di beli.
Silahkan pilih Upcoming Course dibawah.